Immunohistochemical and genomic investigation of predictive and therapeutic biomarkers in adrenal malignant tumors
Abstract
In this study, we will conduct pathological analysis of surgically removed adrenal tumors in patients with adrenal tumors who have undergone surgery at the National Center for Global Medicine (NCGM), National Cancer Center Hospital (NCC), and National Center for Child Health and Development (NCCHD). We will search for biomarkers (substances in the body, such as proteins and genes, that can be used as indicators of changes in disease status and the effects of treatment) that are related to the disease.
Pheochromocytoma/paraganglioma (PPGL) and adrenocortical carcinoma (ACC) are rare malignant tumors of the adrenal gland, and patients are widely distributed from children to adults. PPGL is difficult to distinguish from benign or malignant tumors by blood and urine tests, imaging tests, and pathology, and ACC may not be clearly differentiated from benign adenoma by pathology. Therefore, there is a need to develop biomarkers to predict recurrence and prognosis. In addition, there is no curative treatment other than complete resection for both diseases, and the prognosis is poor with a 5-year survival rate of about 10% for some PPGL and ACC with confirmed metastasis. Since the efficacy of existing cytotoxic anticancer agents is limited and there are few approved drugs, the development of new therapies is desired, and the search for new therapeutic target molecules is also important.
In this study, we will use specimens from the primary or metastatic site where the cancer first developed, and pathologically examine the expression of disease-related genetic mutations, clinical immunological indicators, and hormone synthases. We will also evaluate localized cases, childhood cases, and benign adrenal adenomas as controls. Based on the molecular biology of both diseases, which has been extensively studied in recent years, we will analyze the relationship with detailed clinical information and identify clinically useful biomarkers to understand the pathogenesis, predict prognosis, and develop treatments.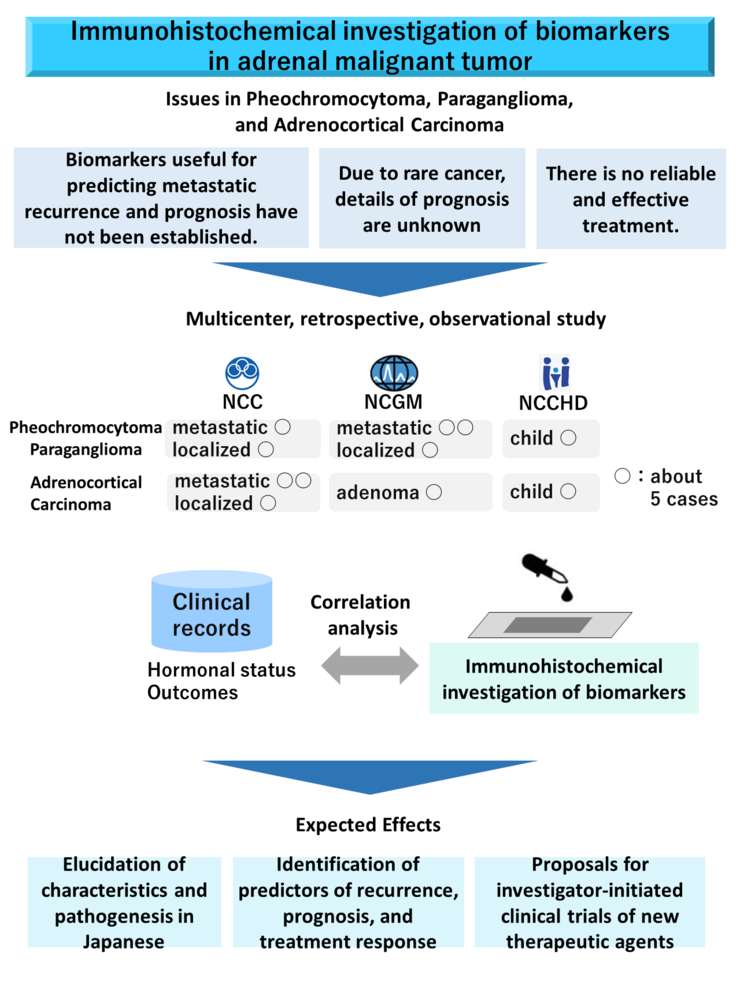 Perspectives
To clarify the characteristics and prognostic outcomes of pheochromocytoma/paraganglioma and adrenocortical carcinoma in the Japanese.
To discover biomarkers that predict prognosis.
To be able to clarify the mechanism of metastatic recurrence and the pathogenesis of refractory cases.
To propose physician-led clinical trials for new therapeutic agents.
Comments from principal researcher
There are few effective treatments for adrenal malignant tumors, and the gap between them and the desired improvement in quality of life for patients is a daily concern. By uniting the efforts of the National Center for rare endocrine tumor cases, we aim to search for useful biomarkers for patients suffering from intractable diseases and find the seeds to create personalized treatment strategies.