Assessment of psychological and emotional response to sensory stimulation and its relationship with clinical measures in people with dementia
Abstract
This study examines how people with dementia feel about stimulation by robots.
Recently, many communication robots (emotional support robots) that are intended to be enjoyed and used by the elderly have become commercially available. However, it is known that while some of these robots may be perceived favorably by people with dementia, others may cause them stress. One of the reasons for this difference might be that people with dementia perceive external stimuli, which are a combination of various patterns such as light, sound, and touch, differently than people without dementia. The common symptoms of dementia include not only memory loss, but also hearing and visual cognitive decline, which may be due to changes in brain function. On the other hand, as the care of people with dementia has become a social issue, if such robotic technology can be used to reduce behavioral and psychological symptoms such as anxiety and depression, the technology will be useful in the life and care of people with dementia.
Therefore, in this research, people with dementia are going to experience stimuli from pet-type and humanoid-type robots as representatives. We will ask them whether they like the robots when they see them, hear their sounds, and touch them (subjective evaluation). At the same time, we will observe what kind of conversations and facial expressions are produced, and analyze the emotions that may be contained in them using information technologies. In this way, we can clarify which sensory stimuli were favorably received. We will also examine whether there are differences in the way perceiving robotic stimuli depends on the degree of cognitive function and symptoms.
This research is expected to reveal what kind of robot technology can reduce behavioral and psychological symptoms of people with dementia, and support their daily care.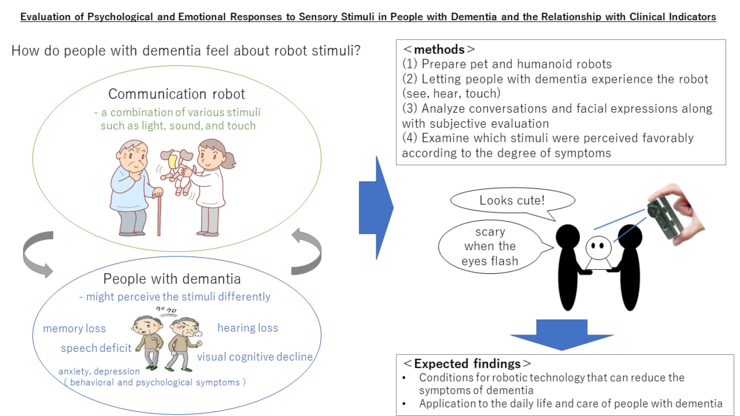 Perspectives
We can find out what kind of stimulation is preferable for people with dementia.
We can guess whether robot stimulation is effective for behavioral and psychological symptoms such as anxiety and depression.
We can find out what kind of characteristics in the robot would be useful for the daily care of people with dementia.
The findings of this study might be applied to the development of more useful robots for people with dementia in the future.
Comments from principal researcher
Rehabilitation such as occupational therapy and music therapy has been proved to be effective in reducing the symptoms of dementia that interfere with daily life, yet such rehabilitation is not available to everyone everywhere. This research was planned based on the idea of clinical practice that robot technology, which has been developing rapidly in recent years, might help provide such services more easily by anyone anywhere. We hope that our research activities will lead to the support of dementia care and help people with dementia lead a peaceful daily life.