Development of cross-disease biomarker to predict postoperative delirium
Abstract
The aim of this study is to develop a predictive biomarker for postoperative delirium.
Following surgery, patients become enfeebled by surgical invasion and anesthesia, and may show psychiatric symptoms called "postoperative delirium". Postoperative delirium symptoms are similar to confusion in a half asleep condition, which manifest as sleep cycle disturbances, psychomotor retardation, disorientation, disturbance of memory, and incoherent conversation, and can accompany delusion and hallucinations. Delirium increases accidents of self-extubation, falls from bed, and tumbling down, all of which delay surgical recovery. A recent study showed that delirium also may cause dementia. However, biological mechanisms of delirium onset remain unknown, and standardised prevention methods have not been established. Elderly patients, who have a high risk of developing delirium, often undergo surgery in an aging society, which makes it important to prevent postoperative delirium.
We have developed biomarkers to predict postoperative delirium by immunological analysis of peripheral blood (patent pending). Here, we will examine whether a developed biomarker could predict postoperative delirium following various diseases, in collaborative research among the National Cancer Center, National Cerebral and Cardiovascular Center, and the National Center of Neurology and Psychiatry.
Development of a predictive biomarker for postoperative delirium will highly contribute to the supportive care of elderly postoperative patients with early and appropriate intervention. A prevention strategy against delirium would benefit patients for their surgical outcome, including survival, quality of life, shorter hospitalization, and prevention of dementia, and thus contribute to maintaining a healthy aging society.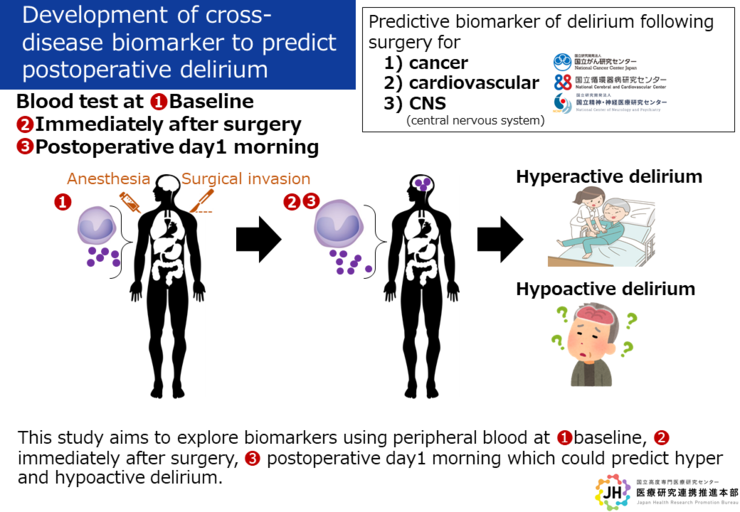 Perspectives
Improvement of surgical safety and security
Improvement of surgical outcomes
Earlier discharge
Reduction of dementia
More independent elderly
Decreased burden on care providers and families in society
Comments from principal researcher
Delirium is a common disorder that affects as much as half of elderly people in hospital, and elevates the burden of patients, families, and the workforce. Guidelines thus recommend the development of an effective prevention method for delirium. To standardize prevention, rather than the treatment, there is a substantial need to establish 1) a safe and effective medicine and 2) a biomarker to identify patients who will benefit by an intervention. The present study promotes prevention development via 2) establishment of a biomarker using peripheral blood.