Research on the management and the evaluation of exposure dose by image-guided radiotherapy
Abstract
Generally, the exposure dose in patients from high-energy radiation used during radiation therapy is regulated by quality control and quality assurance in accordance with legal standards and institutional guidelines. Radiation therapy uses two types of radiation: high-energy particles or waves to destroy cancer cells, and low-energy radiation to image the matching adjacent organs and tumors just before treatment. Initially, it was not required for radiation exposure during imaging to be strictly controlled. In addition, with current high-precision radiotherapy, it is becoming more important to accurately match the treatment site, and thus the frequency of diagnostic imaging processes have been increasing compared to before. However, management of the exposure dose used to obtain images for matching is entrusted to each institute.
In this study, we aim to develop and generalize a system that can systematically and automatically manage and record radiation dose exposure during treatment imaging. The management software we have developed allows us to confirm the safety of the exposure dose during the entire period of radiation therapy.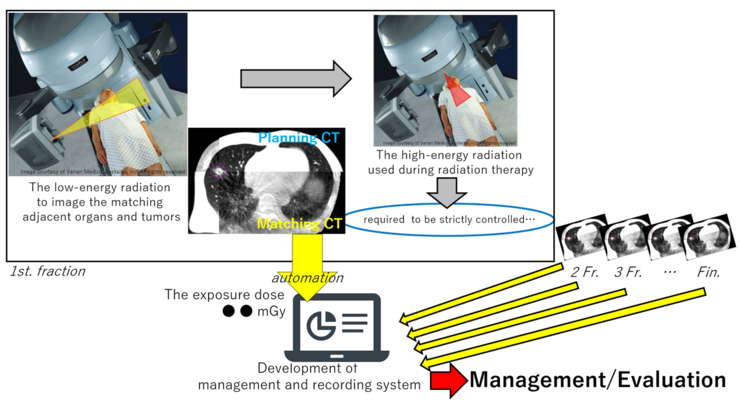 Expected outcome
In radiotherapy, we will develop a management system that records exposure dose, thus building the foundations for the development of safety management systems during treatment imaging.
By introducing this system, it is possible to manage and evaluate the exposure dose required in patients throughout the entire period of radiation therapy, with an aim to contribute to ensuring patient safety.
Comment from the Principal Investigator
The purpose of this research is to establish a further safety management system for radiation exposure, thus improving medical safety.