A study on evidence-based practice and information literacy among clinical nurses: Baseline survey of evidence-based practice and evaluation of ICT-based recurrent education
Abstract
This study aims to evaluate an educational program that acquires information literacy for evidence-based practice (EBP) among clinical nurses. The importance of EBP is widely known, and previous studies have shown that many nurses reported lower knowledge and skills in searching for information as evidence, and reading research articles.
Nurses in Japan often conduct nursing research while working in a hospital, which gives nurses the chance to learn research. However, an educational program to improve information literacy for EBP has not been established yet. Moreover, how often nurses in Japan practice EBP and the degree of acquiring such information literacy is unknown.
Thus, the current study plans to (1) survey EBP and information literacy and (2) provide education on interventional studies using e-learning to gain knowledge on EBP and information literacy for nurses in the national centers for advanced and specialized medicine in Japan.
Acquiring knowledge and skills for improving EBP and information literacy is different for each learner. Therefore, an education platform is needed wherein learners can select their own needed learning content. Thus, this study would contribute to creating a place of learning for nurses. This meets goal 4, which is to "Ensure inclusive and equitable quality education and promote lifelong learning opportunities for all" for SDGs. The e-learning of the current study will be available in the future as Massive Open Online Courses, freely available for all learners online.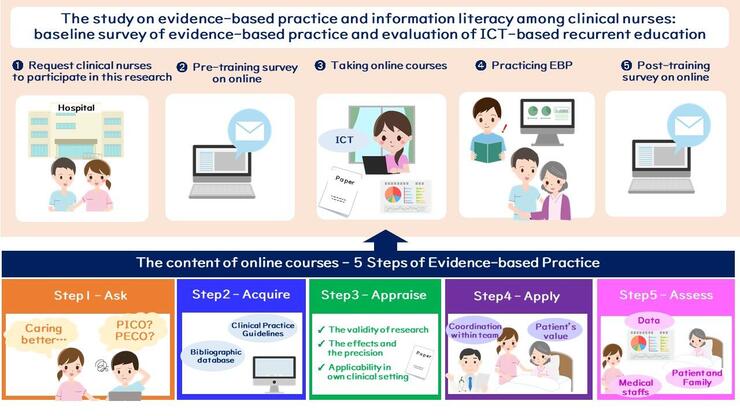 Perspectives
Clinical nurses can do the following:
search efficiently research articles that are evidence for clinical practice
appraise research articles critically regarding the degree of approach effective in real-world clinical settings
improve quality of care by integrating research evidence into clinical care
Comments from principal researcher
Challenges in daily clinical practice, which are difficult to solve using one's own experience and knowledge, are often encouraged. Thus, more options for best care are acquired from research evidence through the EBP process.
E-learning in this study will be designed not to enhance the conduct of research for researchers, but to practice EBP for clinicians. The e-learning will improve the quality of care and provide an educational platform.