Construction of the shared educational platform for Six National Centers
Abstract
The term "platform" means "foundation or base". The purpose of this research is to build a platform for human resource education common to the six national centers so that the six national centers (NCs) can work together to develop useful human resources. We will also provide useful information to medical and nursing professionals, companies, and the general public outside the six NCs.
Until now, each NC has developed and provided a variety of educational content on its own. Since the content was created separately for each field and occupation, there is no uniformity in the format and few mechanisms for evaluation and revision, resulting in a waste of time and money.
The first step in this research is to establish the 6NC Education and Training Committee (6NET-C), which will take a bird's-eye view of 6NC education, and examine what content is necessary and what content is lacking. In addition to utilizing the training content that was created by each NC and has already been recognized as useful, we will provide equipment and support to create new content by each center.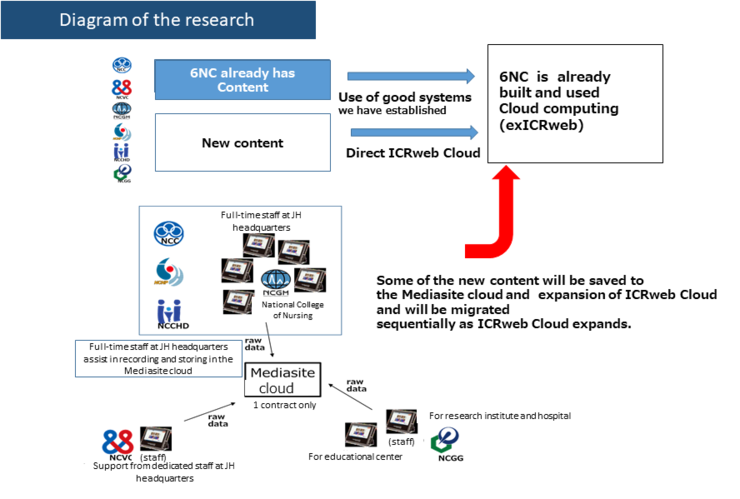 Perspectives
By building an educational platform as a common educational and training infrastructure for the six NCs, we can create and manage content that can be freely used by six NC staff for mutual benefit.
The establishment of a joint management system is expected to improve the quality of content.
Contribute to the development of human resources and the dissemination of information required by the National Center for Biomedical Research and Innovation.
The shared content can be learned, and the quality of the 6NC staff can be improved.
Some of the content will be made available and viewable to the general public, which can help raise awareness of medical and nursing care knowledge among the public.
By making it available to companies and academia, it will help to collaborate with these organizations.
Comments from principal researcher
First of all, I would like to express my deepest gratitude to the many people who have supported this research. The six National Centers (NCs) have individually produced a great deal of educational content in the past. Some of the content may be useful for the staff of other centers and the public to view. The purpose of this research is to share the information and create new content that will be viewed not only by the six NCs but also by the public. We will also be getting the cooperation of ICRweb, which is already well known as an excellent educational website. We will do our best to produce results that will be useful to everyone. Thank you very much for your cooperation.