The development of an analytical method for measuring COVID-19 antibody in serum
Abstract
To control novel coronavirus infection (COVID-19), in addition to the PCR methods for diagnosis of people who are currently infected with the virus, the detection of serum antibodies is also important to diagnose people who have been previously infected, regardless of whether they have symptoms or not. From clinical trials of vaccinated people and other studies, it has been found that people harboring serum antibodies are less likely to be infected with the new coronavirus. However, in May 2020 during the first wave of coronavirus pandemic, there were no reliable diagnostic reagents to quantify the antibodies of novel coronavirus in serum, with no detection of antibodies to viruses other than the new coronavirus.
JH and we judged that it was urgently needed to develop a practical reagent for detecting serum antibodies. Sysmex Corporation has been developing a reagent for detecting serum antibodies using the CLEIA method that allows precise precision quantification. We started to assist in collaborative research with Sysmex Corporation, the National Center for Global Health and Medicine, and the National Cancer Center.
As a result of the collaborative research, we confirmed that the detection system is able to quantitatively detect antibodies, using patient serum guaranteed to be positive for the novel coronavirus, and that the new coronavirus antibodies are hardly detected by the system in serum stored before the appearance of the new coronavirus, in which antibodies should not be present.
Currently, a multicenter observational study on the actual status and factors of novel coronavirus infections in the staff of national centers is also being conducted across six national centers using this antibody detection method.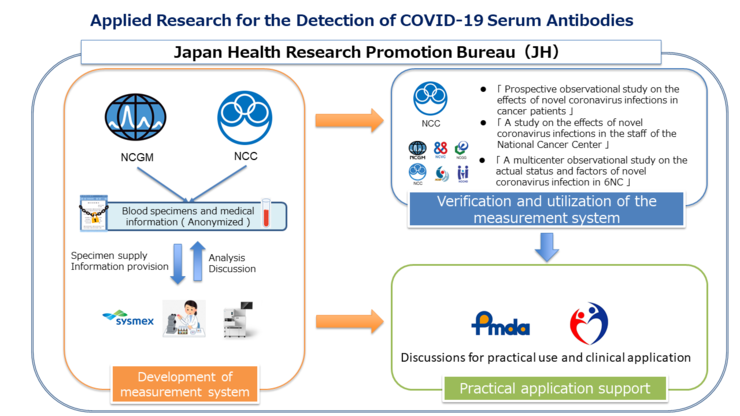 Perspectives
Development and practical implementation of a COVID-19 antibody testing method

Identifying infection trends in Japan by antibody testing and supporting the restoration of social and economic activities

Enhancement of 6NC collaboration and participation in epidemiological studies

Training of physicians and scientists through industry-academia collaborative research
Comments from principal researcher
The worldwide pandemic of the COVID-19 outbreak in 2020 restricted social and economic activities and caused panic throughout Japan. It is essential to implement a testing method with guaranteed accuracy. Subsequently, in the cooperation of the National Center for Global Health and Medicine and Sysmex, our research team aimed to implement a highly sensitive and quantitatively guaranteed antibody test method in clinical practice. Since June last year, it has been available in Japan as a research reagent. In the future, the developed assay will be applied to epidemiological studies to understand the infection status and immune status of cancer patients and healthy individuals.