National Center Biobank Network Project
Abstract

Six National Centers (NCs) in Japan conduct specialized medical research coordinated by the National Center Biobank Network (NCBN), utilizing biobank resources to develop therapeutics to improve and protect public health. A joint meeting between NCBN and JPMA (Japan Pharmaceutical Manufacturers Association) in 2019 reached an agreement that NCBN needed in order to facilitate best practices for omics (genomics, proteomics, metabolomics, etc) research. This agreement reflects the diagnostic capability of NCs in specific areas of practice, such as cancer, and cardiovascular, neuropsychological, infectious and collagenous diseases.
In this research project for infrastructural reinforcement, NCBN verifies protocols for omics informatics together with accumulated clinical records, adjusts handling of laboratory information, and prepares for future national research with highly secured communications.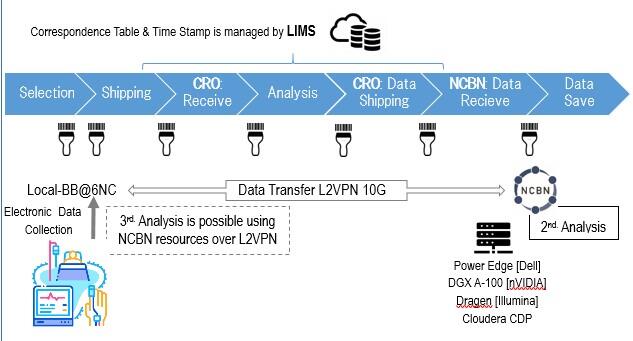 Perspectives
A Laboratory Information Management System (LIMS) will be introduced on a cloud server, to facilitate just-in-time sample shipping from multiple centers (6NC-local biobanks) to multiple clinical research organizations.

Task forces will be organized to collect biological resources and information under the IT Security Policy at NCBN to demarcate responsibilities of local networks in NC.

With the support of the Japan Health Research Promotion Bureau the 6 NCs will be able to connect to the NCBN server using secure L2VPN communications. NCBN is one of the primary users of L2VPN.

The NCBN data server and computing resources will be used by researchers in local NCs through a secure zone in the local biobank.
Comments from principal researcher
This project will reinforce robust, high-throughput structures in NCBN servers necessary to guide Japanese pharmaceutical development utilizing NCBN biobank resources to develop precision medicine.