A systemic real-world data platform project utilizing electronic medical records (Japan Standard Platform for Electronic Health Records: JASPEHR)
Project Summary
The utilization of large-scale medical data, such as the application of AI, is progressing with the evolution of information technology. Automatically collecting clinical data from hospital medical records is expected to facilitate medical research activities throughout Japan. In clinical research conducted in Japan, doctors and medical staff have manually collected necessary information from medical records during their busy work, and the amount of information that can be collected is limited. A new method that we have given attention to in recent years is collecting data directly from electronic medical records. The information is collected directly from electronic medical records without manual posting, so the labor of data collection is greatly reduced.
In this study, we will extract electronic medical records with different database structures constructed in six national center (NC) hospitals, and build a large-scale integrated medical information database that can be used commonly for medical research.
We will achieve the following during the research period:
A system that collects structured medical information (diagnosis, prescription, examination results) in each NC's electronic medical record, and provide it as research data for NC's clinical researchers.
A function to automatically import the medical record template (formatted data input screen) into the electronic medical record system for systemic collection of the necessary information.
Show the direction of handling and utilization of unstructured data and image data.
We will consider the possibility of cooperation with the National Center Biobank Network (NCBN) using the collected NC data and new services such as personal health records (PHR).
In data exchange, we will incorporate the latest standards such as HL7® FHIR®.
Project diagram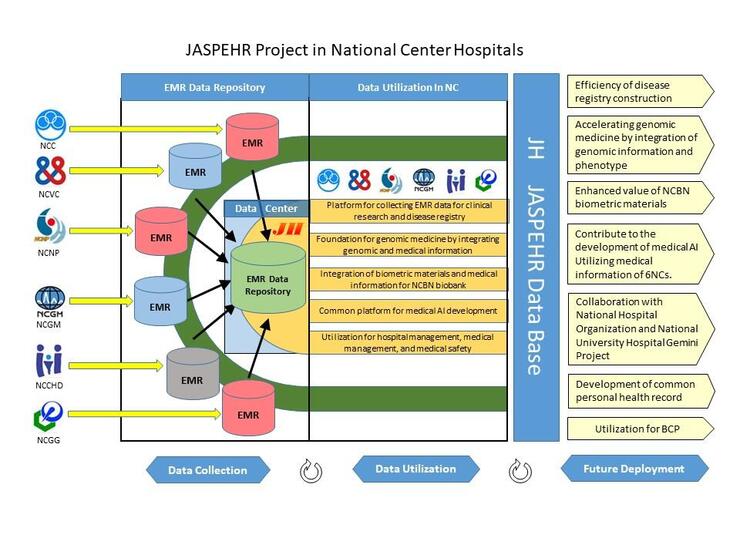 Expected result
Medical research utilizing electronic medical record data will be able to be carried out efficiently and it is expected to contribute to disease research and treatment method development. The results of this project will be shared with medical research institutes nationwide other than national centers.
Research progress
A data center at the National Center for Global Health and Medicine (NCGM) has been set up and electronic medical record data collecting has started. The electronic medical record data of each NC is encrypted via a virtual private network (VPN) after data extraction and anonymization are performed with a dedicated system called "SS-MIX2", which is a standard for data exchange of medical information in Japan. It will be sent to the data center. We perform data quality validation and properly adjust the extraction conditions at the start of data transfer.
We are also studying the following subjects for data collection.
Preparation of medical data code for improving the quality of medical information
When using data collected from multiple medical facilities, it often happens that the data cannot be used due to inconsistencies or omissions in codes, such as drugs and examinations. We are planning a modification of coding to output the accurate code in each NC system.
Examination of specifications for common electronic medical record templates
We will make common specifications of medical record templates (formatted data input screen) with the aim of deploying templates to multiple facilities with a single operation. The common specifications will be compliant with HL7® FHIR®, the new international standard for medical information data exchange.
From investigator
I have been engaged in research development and management of hospital information systems, standardization of terms and codes, and data utilization for 20 years. In this research, we aim to integrate medical data from six national center hospitals, share the data widely with medical research institutes nationwide, and contribute to disease research and treatment method development.